Video Manipulation
Video manipulation is a widespread propaganda method with a great impact on target audience. In comparison to a text and static image, moving shots have a more persuasive effect as they create an impression that an event actually happened
Types of video manipulation

Five types of video manipulation can be outlined, including:


1. Fake video
2. Discrepancy between an authentic video and its caption
3. Portrayal of a film image as a real-life story
4. Fake respondents
5. Fake context


1. Fake video. Artificial intelligence tools have made it possible to combine the face of one person with the body of another. A number of techniques, such as Deepfake and Deep Video Portraits, enable full control over the target by transferring the rigid head pose, facial expression and eye motion with a high level of photorealism. Thus, it is possible to falsify the speech, words and facial expression of any person.



2. Discrepancy between an authentic video and its caption. One of the most widespread forms of video manipulation is the discrepancy between a video footage and its caption. In such cases, the video is actually authentic and it is not doctored, but its caption is manipulated. A number of cases have been revealed when the place, time and person mentioned in the caption did not match up with the version featuring in the video, or the video depicted general images that actually made it impossible to identify the location, persons or developments described in the caption. Similar manipulations are frequently used by ultra-nationalist groups to incite xenophobic and racial sentiments among the audience. (Case studies 1, 2, 3, 4)

3. Portrayal of a film image as a real-life story. To legitimize fake news, film images are sometimes presented to the audience as a video evidence for a real-life story. Similar practice is frequently used by Russian TV channels. The same tendency was observed in 2014, during the Maidan developments in Ukraine and Russia's annexation of Crimea. (Case study 5)

4. Fake respondents. To legitimize a fake plot, various respondents are frequently dubbed in a story as "witnesses", or "experts" in a particular field. In reality, they are hired actors or persons with absolutely different identities or statuses. (Case studies 6,7)

5. Fake context. To sow doubts and disseminate disinformation among the audience, propagandistic groups change the context of authentic videos through editing them and cutting out video fragments that ultimately changes the essence of an entire story. (Case study 8)



Five steps for video verification
In the process of video verification, we need to answer five questions: What? Who? When? Where? Why?
Look carefully, what is happening in the video, what particular developments are being featured in the video? What typical details are shown in the video? Pay attention to the video caption, tags, comments, acronyms, geographical names, logos, etc.
Who is the author of the video? Check an uploader's online history, whether he/she is the author of the video or simply disseminates the video of others? Search the uploaders' profiles in other social networks; check their profiles: when were they registered? What types of videos do they circulate? How popular are their videos/YouTube channel?


Who has uploaded the video to YouTube?
The name of a YouTube video uploader is given on the left side below the video. By clicking on the name, you will move to the YouTube page, which provides information about profile.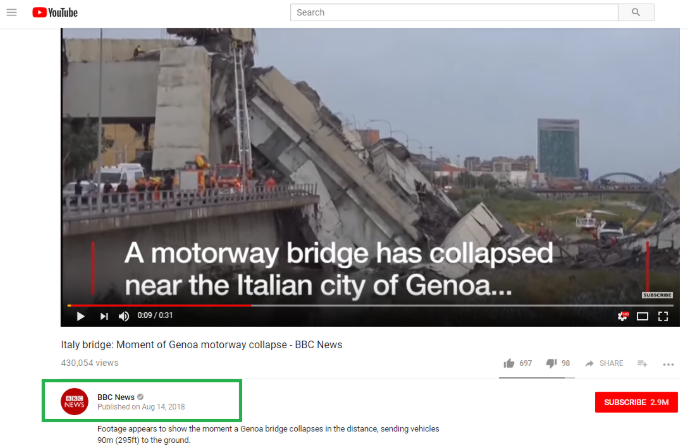 In this particular case, the video has been uploaded by BBC. We learn from an "About" section that BBC News channel was launched on April 7, 2006 and it has over 800 million views as of today. It is also indicated that BBC News is based in Great Britain; the links of other BBC News social network profiles are also provided. The section "Videos" enables to view all videos uploaded by this profile.
It is important in video verification process to determine an exact upload date. YouTube provides an upload date below the name of an uploader.



You can use Amnesty International's YouTube Data Viewer program to receive information about an upload date. Copy and paste a video's URL into YouTube Data Viewer search bar and it will return the exact date and time of an upload. (Exercise 1)



a. Video shooting location
It is important to answer the question about where the video was captured. Use geolocation techniques and resources for this purpose. Besides satellite images, the location can also be tracked by weather conditions. Wolfram Alpha provides access to an updated database of weather information in any place of our interest. If the video date and the location provided in the caption do not match up with weather conditions, it means that the location has been faked.
b. Where did a particular video circulate?
Answering this question is an important element of video verification process, because the video you are viewing may not be authentic, or a caption added to it may appear manipulated. Just therefore, it is essential to search the networks of its circulation and find the authentic video and its original source.
To search the Internet effectively, you need to have Thumbnails - reduced-size versions of videos. You need to save these images as photos and then use photo verification techniques. Thumbnails are provided by several programs:


1. Youtube Data Viewer

a. Besides finding the upload date, the program offers reduced-size versions of images, which can be used in reverse image search engines. Removed images are given below the video date. Click reverse image search along the images and the program will itself redirect you to Google image search engine.


b. The program also provides information about the code of video uploaded on YouTube. If we copy the code in search engines, we will additionally find out on which websites and portals the particular video was disseminated.


2. InVID

Write the following address in Chrome or Firefox Internet browsers: invid-project.eu/verify; choose a relevant version of a browser and build it in your browsers.


After adding, the program will appear at the end of a search field, on the right side. Click "Open InVID" and video verification program will open in a new window.
In contrast to YouTube Data Viewer, InVID allows you to get detailed information on Facebook videos.


Based on the already collected information, just think why the source spread the manipulated video at a specific period of time? Was it an accidental mistake by the source or did it aim at deliberately misleading the audience?